WPP Australia revenue growth a stand out to start 2023.
April 2023
WPP in Australia has seen better growth in the March quarter than the rest of the advertising group's business in Asia-Pacific. The company remains on track to deliver full-year guidance, thanks to the competitiveness of the offer and our role as a modern, trusted partner to clients in a world further disrupted by technology.
Honest Eggs, the first-ever fitness trackers designed for chickens
March 2023
Honest Eggs Co. is on a mission to change egg farming for the better. VMLY&R has launched FitChix, the first-ever fitness trackers designed for chickens to help monitor the health of their chooks and to continue to bring attention to why regenerative farming is better for the hens, the egg, the land, the farmer, and the community
WPP and Big Commerce Partner to Enhance Global E-Commerce Offering
February 2023

WPP will help shape product development and innovation at BigCommerce with commerce specialists joining product and partner councils, in addition to receiving access to a custom training program and certification pathways. As part of the partnership, WPP will commit to upskilling 150 commerce specialists within the first year of working with BigCommerce.
2023 the Year of AI
January 2023

The debate on what ChatGPT can and can't do with the creative industry way of working will rage on, but the only way to find out is to put it to the test. And let me tell you, AI and machine learning are taking over the workplace faster than a robot on steroids.
Montu Named Australia's Fastest Growing Tech Company
December 2022

Montu is on a mission to improve lives for millions of Australians through medical cannabis therapies. As an early investor I have seen first hand how the company has helped thousands of patients. Montu has built an integrated cannabis ecosystem, which streamlines the journey for patients end-to-end, and sets new standards in cannabis care.
Diversity Council Australia Names WPP an 'Inclusive Employer' in Australia
November 2022
To be deemed an 'Inclusive Employer', an organisation must prove they are actively committed to inclusion by exceeding the National Index Benchmark on at least five out of six of the inclusivity measures. These measures are Awareness, Engagement, Inclusive Organizational Climate, Inclusive Leadership, Inclusive Team and Exclusion. WPP surpassed the benchmarks in all six areas.
___________________________________________________
Ideas that have 'magic' at their heart. Ideas that impact culture. Ideas that redefine categories. Ideas that make other people plain jealous.  We recently formed a WPP Australia/New Zealand Creative Council with representation from Ogilvy, VMLY&R, Wunderman Thompson, AKQA, Whitegrey, and Hogarth. A good mix of wise old creative heads and exciting young talent.  
___________________________________________________
Tennis Australia Action Audio
September 2022
Developed by AKQA in partnership with Tennis Australia and Monash University, Action Audio draws on ball monitoring using computer vision to emphasise key moments of play. It does so with a 3D sound design system that has been developed in collaboration with the blind and low vision community
___________________________________________________
WPP named a Leader in new analysis of Global Marketing Service Providers
August 2022
WPP has also been named a Leader among Global Marketing Service providers in The Forrester Wave™: Global Marketing Services, Q3 2022 report. WPP received the highest scores possible in seven criteria, including creative and content services, customer data strategy and activation services, digital experience services, workforce strategy and performance.
___________________________________________________
Cannes Lions & ANA's CMO Tech & Data Growth Council
July 2022
Among the most important initiatives of the CMO Growth Council are those centred on data, technology, and measurement — the engines that will lead marketers into the future. Delighted to be involved.
___________________________________________________
WPP Wins Most Creative Company At Cannes Lions 2022
June 2022
The Creative Company of the Year award is given to the company which earned the most points across its agencies at the Cannes Advertising Festival. WPP was also the most awarded company in the Creative Business Transformation category, reflecting the company's expertise in creating new and innovative products and services for clients, and reimagining customer experiences or business models
___________________________________________________
Roogenic Medicinal Bushfoods Have Never Been More Accessible and Delicious
May 2022
At Roogenic, we plan to work with more International distributors to improve the health of millions of people worldwide with Australian bushfoods. With your support, we can continue to work with Indigenous growers and manufacture new product ranges with unique health benefits that we can take to the rest of the world.
___________________________________________________
Bunsters – The Global Hot Sauce Phenomenon Now Makes Cocktails
April 2022
Bunsters keeps going from strength to strength. Since launching off of the back of a good old fashioned crowd funding campaign in 2015, raising $250,000 Bunsters just keeps kicking goals. They've doubled their hot sauce offering, done a sell out Peanut Butter Collaboration and come up with an entirely new direction for the company in a booming segment: A subscription based Ready to Drink Cocktail Club.
___________________________________________________
The Metaverse Foundry
March 2022
The Metaverse Foundry is a resource available to all of WPP's clients and agencies globally, bringing the very best expertise in metaverse production and virtual art together to help realise strategies and ideas from across the WPP network. 
___________________________________________________
WPP Outstanding 2021 Results
February 2022
We have seen the acceleration of two significant trends in 2021, in data and purpose, that we expect to continue. The shift to digital and omnichannel commerce is driving companies to increase investment in data-driven marketing, which requires better (and privacy-compliant) customer data as well as marketing technology transformation. We are also witnessing very strong demand for strategic advice on purpose, sustainability and broader social issues. 
___________________________________________________
Mediative Travel – New Trend from Wunderman Thompson Intelligence Report
January 2022
Meditative apps for wellness are finding new space in the travel sector, giving stressed and anxious travelers access to therapeutic sessions to ease their minds during their journey. One of one hundred trends from the Wunderman Thompson Intelligence report "The Future 100: Trends and Change to Watch in 2022," an essential trend almanac offering a snapshot of the year ahead and the most compelling trends to keep on the radar.
___________________________________________________
The Power of Creativity to Build Better Futures
December 2021
There really is no other organisation quite like WPP. Being part of this incredible company – with our 100,000 talented people, huge range of capabilities and presence in 110 different countries – means you get to be part of a unique opportunity to help bring about change in ways that others in our industry cannot. 
___________________________________________________
Don't Choose Extinction at COP26
October 2021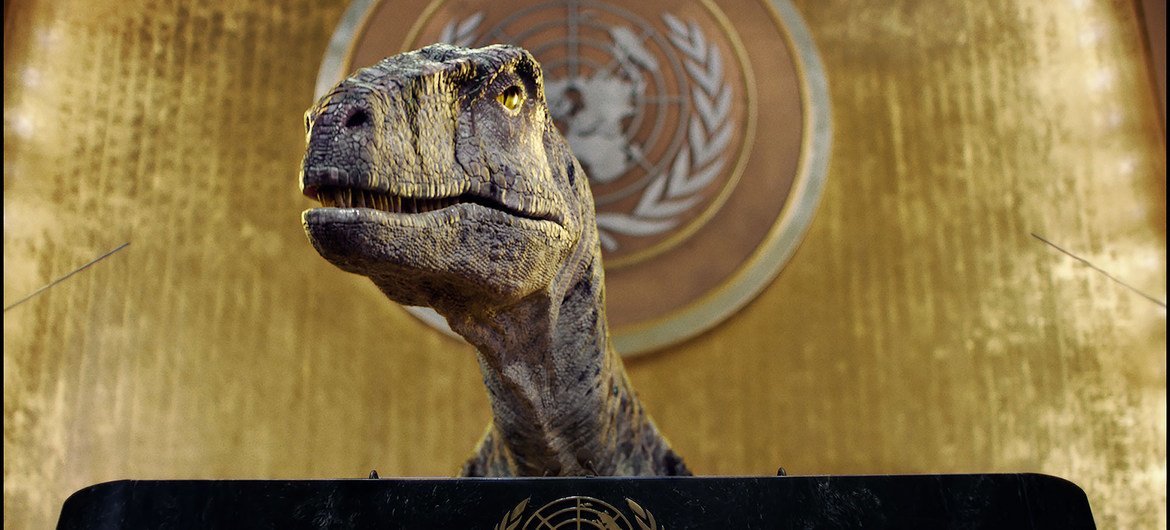 It's great to see our WPP agency Wunderman Thompson Australia hard at work this week getting involved in COP26. The "Don't Choose Extinction "campaign engages with our world leaders in a drive towards a sustainable recovery from the COVID-19 crisis.
___________________________________________________
WPP and Snap Launch Augmented Reality Partnership
September 2021
WPP is Snap's inaugural Agency AR partner, that will collaborate with Snap on new products and technology, such as the recently launched Snapchat Trends tool, which allows teams to use proprietary insights and data to inform creative and campaign development. WPP will also gain access to a custom AR Lab Strategy Guide, which includes best practices to inform creative development using Snap's AR technology while ensuring that branded AR experiences can be brought to market faster and more easily than ever before.
___________________________________________________
Audio Programming that Can Listen, Remember and Adjust
August 2021
Like an invisible companion, Sound is no longer dependent on a carrier medium or dedicated device. Instead, listening has become mobile and on-demand. Sound accompanies us wherever we go, without interruption.
___________________________________________________
What Digital Transformation Is, And What It Is Not
July 2021
An opportunity to optimize customer experience to create happier customers and increase revenue is an aspiration. Innovate faster, collaborate efficiently, and deliver more value with less effort is a goal. In my experience working with enterprise digital transformation, there can be unrealistic expectations of what such an initiative can and should achieve—some learnings.
___________________________________________________
WPP wins industry's most creative company at Cannes Lions 2021
June 2021
Cannes Lions, a five-day International Festival of Creativity, is the largest gathering in the creative marketing community. Winning the most creative company of the year at these awards is a culmination of many hours of tireless work from many talented WPP people, fearless brand marketers, and brilliant production partners. Check out the great work.
___________________________________________________
Accessible Technology
May 2021
Bringing people with different backgrounds, and experiences together can improve problem solving and creativity, while contributing different points of view. A core element of embracing diversity and inclusivity is ensuring that every single employee has access to all the tools and resources they need to enable them to do their best work.
___________________________________________________
WPP has been named a Leader among commerce services providers by Forrester Research, Inc.
April 2021
One of the strongest signals for marketing and technology leaders today continues to be The Forrester Wave™. In its latest 28-criterion evaluation of commerce services providers, Forrester identified WPP as one of the 14 most significant ones and ranked WPP as a Leader.
___________________________________________________
Mozaik Play empowering people to pursue a career in the creative industries
March 2021
I am excited to announce I have taken an investment and advisory board position at Mozaik Play, the first and only specialised student agency for the creative industries worldwide. Mozaik Play is a platform to connect the next generation of creative professionals with the most reputable creative media colleges worldwide to fuel growth across the creative economy. 
___________________________________________________
Being relevant at the right stage of the journey
February 2021
The conversational AI platform market will exceed $12B by 2025 as brands figure out how to interact with customers via conversational AI platforms, Marketing Technologyand Marketing Communication teams will have a new playing field to explore. An interview with Velocitize.
___________________________________________________
WPP and TikTok announce First-of-its-Kind Global Agency Partnership
January 2021
WPP has closed a deal with TikTok to enable its agencies and their clients to tap into the culture-shaping impact and reach of the short form video and digital platform. The world's largest advertising group will have early access to advertising products in development.
___________________________________________________
WPP Extraordinary Awards
December 2020
Creativity is more than just a great idea. It has the ability to bring about change and to transform businesses. In a year defined by disruption, WPP launched these awards to celebrate our people and recognise work that demonstrates the power of creativity to build better futures for our clients and communities. This year's winners were selected from almost 1,000 entries across five categories. Four reflect WPP's offer: Communications, Experience, Commerce and Technology, while the fifth – the top prize – is for the best example of Creative Transformation for clients.
___________________________________________________
Marketing Tech Symposium 2020
November 2020
A carefully crafted marketing technology event and program combining inspiring keynotes with informal activities, deep think tanks and time to build real relationships. 
___________________________________________________
Opinion:
Integrating Artificial Intelligence Into How We Live, Work, And Communicate
September 2020
Over time I have learned that advancement in technology can provide the evidence to enhance and support a decision or create an output—getting the balance right as AI advances is both a challenge, a responsibility, and where the magic can be found.
___________________________________________________
Humanity and the Machine, Secret and Lies Series
July 2020
WPP AUNZ Secret and Lies research studies explore the difference between what we say out loud and what we really think across a range of topics that are particularly relevant to our clients. As technology plays an even more important role than ever in how we function as a society, this month, we got some of our key partners together to examine the topic 'humanity and the machine' and explored our relationship with tech.
___________________________________________________
Accessibility verses Inclusivity
June 2020
The enormous – and underserved – market for people with disabilities is ripe for innovation and disruption. Companies that understand this and take advantage of the opportunity will be making a strategic decision with long-term benefits.
___________________________________________________
Marketers in Pyjamas
May 2020
Marketers around the world are always craving inspiration. To hear the weird and wonderful ideas floating around the minds of creative marketers during COVID-19, as they share their experimentation and the ingenuity born from it. Check out a couple of examples during May 2020.
___________________________________________________
Bunnings Lower Prices is Just the Beginning
April 2020
Bunnings have introduced a number of new digital and low touch economy services across Australia and New Zealand during COVID-19 which has resulted in significant demand and growth.
___________________________________________________
Being Creative with Technology Remote Working Tools during COVID-19
March 2020
Technology can and is playing a vital role in reducing the impact of COVID-19 on our people and our client organizations. The WPP people work with a myriad of cloud technology tools that drive media, strategy, creativity, production and marketing technology solutions.  Here are some great new remote working tools available to be creative with your workforce during this challenging time.
___________________________________________________
WPP AUNZ New Corporate Strategy and the Centre of Excellence Announced
February 2020

WPP AUNZ announced this week to the market a raft of changes and new initiatives, all part of a new corporate strategy including a Centre of Excellence. The creation of the new practice delivers both a hub and spoke model to our WPP AUNZ agencies to ensure creativity and marketing expertise leads technology and operational efficiencies for brands to engage and enrich customers using data and marketing technology.
___________________________________________________
Smoogys, bushfire face mask that gives 100% of profits to the Royal Fire Service
January 2020

Young talent from Wavemaker and Ogilvy part of WPP AUNZ have begun producing and selling Smoggys, a brand of P2 pollution masks created to raise money for the Rural Fire Service.
___________________________________________________
Bushfire season
December 2019

It's important you stay up to date before, during and after bush fires and other emergencies this summer. To help, the NSW RFS provides information and warnings through a range of digital channels including the Fires Near Me mobile app.
___________________________________________________
WPP at Salesforce Dreamforce 2019
November 2019

The four-day event hosted in San Francisco has grown into so much more than a conference – from inspiring keynotes and sessions to visionary thinking to discovering the future of technology and actually changing the world, it's a jam-packed event that puts Salesforce products on full display for their suppliers, vendors, and consultants.
___________________________________________________
auric, the world's first beautiful, connected, and personalized essential oils experience.
October 2019

auric is a platform, a digital defusing device for your home that combines essential oils and experiences, a daily sequenced playlist for your senses to cleanse the mind, purify the body and give you the high awareness required to create intimacy with others.
___________________________________________________
Mindshare Invites Ad Industry to #ChangetheBrief to Tackle the Global Climate Crisis
September 2019

Mindshare, the global agency network that is part of WPP, is issuing an invitation to the wider industry to #ChangeTheBrief and use its skills to address the global climate crisis.Agencies that support #ChangeTheBrief commit to creating work which answers the 'Now' brief, to help clients sell their products, but also the 'Future' brief, to encourage the attitudes, lifestyles and behaviours which are consistent with a transition to a carbon-free world.
___________________________________________________
AKQA and Foodstuff Reveal Transformed Omnichannel Experience for New Zealand Retail Giant, New World
August 2019

The New World digital ecosystem creates a link between personalised, inspirational and promotional content for shoppers to make online transactions, interact with shoppable recipes, articles and shopping list builders.
___________________________________________________
GroupM partner with Adobe Advertising Ambassador Program
July 2019

GroupM, WPP AUNZ's media investment arm, today announced that it has become a launch partner in Adobe's inaugural Advertising Ambassador Program. CMOs like to see agencies using multiple Adobe cloud products to help create and managing experiences that are being deployed and orchestrated across Omni channels.
WPP Takes the Plastic Out Of Wire Plastic Products at Cannes Advertising Festival 2019
June 2019

While WPP had yet another successful Cannes Lions Festival it was the announcement from the company to take on a series of initiatives designed to ensure it is playing its part in tackling pollution from single-use plastics by the end of the year demonstrated to me the company vision of a creative transformation company.
Salesforce APAC Partner Conference 2019 – Thailand
May 2019

Salesforce hosted their top fifty partners from across the region to join the Salesforce APAC Leadership team and APAC Alliances Leadership Team for an exclusive opportunity to network, interact and exchange business, whilst celebrating the success from FY19.
Adobe Summit 2019 – Las Vegas
April 2019

Great experiences can set you apart and increase revenue growth, customer retention rates, and customer lifetime value. As the clear leader in the market, most CMOs are using Adobe as the backbone for creating and managing experiences that are being deployed across these channels. This year's Adobe summit served to further showcase Adobe's support of marketers to extend the value of their existing investments and bring sales and marketing into tighter alignment.
___________________________________________________
5G is expected to allow for up to 1 million devices functioning at full capability in 1 square kilometer. Energy, Efficiency, and Service Deployment are the next key areas that will be changed by 5G, allowing for devices to consume a staggering 90% less energy in data operations compared to 4G networks.
OK Google 'Speak to Frank Insurance'
February 2019

frank Health Insurance has launched Australia's first voice app for the Private Health Industry (PHI) category by WPP AU NZ whiteGREY. Speak to Frank Insurance on your Google Assistant, to find answers to your private health insurance questions. Ask general questions about health insurance with your voice, like where to find what you need, how to claim or how to get online through your Google Assistant-enabled devices, including your Google Home.
Joining WPP as Executive Director Marketing Technology Australia & New Zealand
January 2019

I'm excited to announce on my blog that WPP has appointed me into a newly created role of Executive Director, Marketing Technology Australia, and New Zealand. I start today located at 1 Kent Street, Miller Point in Sydney.
___________________________________________________
Top 10 Most Viewed Blog Posts
___________________________________________________
Introducing the Connection Oils experiment by 21st & Dolores. The objective, to explore how the aromatherapy benefits can be enhanced further using technology to bring a community of wellness experts and more stillness into your home. The Connection Oils experiment is a IOT product and platform founded in my downtime on principle to learn more about essentials oils and how to remove the friction to using them more often to create mindfulness in the home.
Be Useful First
November 2018

A few life lessons to go over this month as I relocate from Singapore back to Sydney. Don't take life too seriously. Dreams are necessary to life. You only live once, but if you do it right, once is enough. And finally, understand the entire customer experience you are operating in and advance the user's purpose pre, during and post any engagement and transaction of value.
Creating a mindset change that a unique brand experience is for your minimal viable audience.
October 2018

A personal blog post this month about the smallest market that can sustain you, the smallest market you can adequately serve. This goes against everything the advertising media planned promises, but in fact, it's the simplest way to matter.
Dentsu launches new sports technology accelerator programme
September 2018

Dentsu is taking an active interest in the sports sector joining forces with Scrum Ventures, a US-based venture capital firm, to establish a global mentor-driven accelerator programme aimed at helping start-ups to develop the latest sports technology.
Dentsu Jayme Syfu Greenpeace Dead Whale, Refuse Plastic Campaign
August 2018
The strikingly unusual awareness campaign for Greenpeace Philippines was an installation, a dead whale made of plastic placed on a beach in Naic in Cavite in Manila Bay in The Philippines.
Coca-Cola Promotes 'Peace, Hope & Understanding' during Trump and Kim Singapore Summit from Dentsu Merkeka LHS Malaysia
July 2018
A timely and history-making moment US President Donald Trump and North Korean leader Kim Jong-un met at a summit in Singapore, the first between a North Korean leader and a sitting American president.
To commemorate this timely moment in history, Coca-Cola made limited-edition cans designed by Dentsu Aegis Network Malaysia's creative agency, Merdeka LHS
Project Rejoice from BWM Dentsu Group Australia
June 2018
'Project Revoice' introduced a breakthrough in speech technology for people living with ALS (motor neuron disease), enabling those who lose the ability to talk to continue speaking in their own authentic and personal voice.
Disappearing Alerts from Dentsu BWM Australia
May 2018
BWM Dentsu created a new social media tool to assist Queensland Police with missing person investigations. Sent through Snapchat, Disappearing Person Alerts instantly notify the public when someone goes missing near them. Using the native functionality of Snapchat, the alert communicates an informative and emotive message, 'Help find John Citizen before he disappears.'
Clean Light Hand Soap from Dentsu Bangkok
April 2018
Zantiis, an organic skincare brand, and Dentsu One Bangkok developed Clean Light Hand Soap, a design service vaccine idea to combat Norovirus the 'winter vomiting bug'. Check out this soap bar that flashes for 20 seconds to change the customer experience of washing your hands.
SXSW 2018 – Connecting and Synthesizing New Things
March 2018
If you are in Austin this week for SXSW, do message me so we can walk a tightrope between blind faith and curiosity, between expertise and creativity, between bias and openness, between experience and epiphany, between ambition and passion and between an old today and a new tomorrow.
Smile Lock The Next Innovation in the Open Road Project
February 2018
The OPEN ROAD PROJECT is the brainchild of the Toyota Mirai Project Department, a unit formed to explore the future of mobility. Working through collaboration with Dentsu, the general public, startups, major scale corporations and other organizations, big and small that share the same vision, the goal is to instill an unparalleled degree of freedom in today's urban mobility.
Dentsu Aegis Open New Office with Singapore Government
January 2018
The new Dentsu Aegis APAC 100,000 square feet headquarters was designed with the concept of agile working in mind. Singapore will be the first location in Asia Pacific to pioneer agile working which aims to provide a balance between work and personal needs as well as to facilitate collaboration. Agile workers also create agile organisations that are better equipped to survive and thrive in the digital economy, in line with Dentsu Aegis Network's global push to become a 100% digital economy business by 2020.
Dentsu Aegis Craft Matters Class of 2017
December 2017
Craft Matters set out with a simple goal; to bring the collective power and diversity of our Dentsu Aegis Global network together to create a truly integrated program and output that is enabled by technology, empowered by an ecosystem and seamlessly connected through design.
Find out more
___________________________________________________
Canon Think Big Business Leadership
With constant changes in geopolitical landscape, technological breakthroughs and stakeholder expectations, businesses cannot afford to rest on their laurels with stagnant business models. Planning ahead may be a daunting task, but Canon Asia Pacific leaders got together to create the Think Big Leadership Business Series with an aim to provide clarity for over 700 attending business leaders, through a whole host of respected leaders in both commerce and academia sharing their perspectives on 2018's projections. I was excited to be invited as a speaker on Digitial Transformation at the Grand Ballroom of the Grand Copthorne Waterfront Hotel in Singapore, on the 21st and 22nd of November 2017.
Find out more
___________________________________________________
Australian National University Transformation Management Program
I have joined the Australian Transformational Management Program run by the Australian National Univesity (ANU) . The program is designed by leading international scholars in the fields of organisational behaviour, change management, and project management to give the group chosen the confidence and skills to stretch yourself beyond your current boundaries as agents for transformational change.
Company Culture Change Before Technology Drives Digital Transformation
Company culture reflects an organization's deepest and most tightly held beliefs and values. Those beliefs and values have had years and often decades to become deeply entrenched and often played a significant role in why the organization reached its level of success in the first place. Thinking these beliefs and values can be easily changed is a fool's errand.
Uniqlo To Go Machine
The Unusual Football Field
The world's first non-rectangular football field has been constructed in the community of khlong toei, a densely populated area of Bangkok, Thailand. The project, which includes a series of play areas, seeks to demonstrate that otherwise vacant asymmetrical spaces can be utilized for outdoor recreation.
Dentsu Wins Twenty-Eight Lions at the Cannes Lions International Festival of Creativity 2017
KFC Dumi a Chinese Voice-Controlled Food Ordering Robot from Dentsu Isobar and Baidu
KFC partnered with Dentsu Aegis Trio Isobar Shanghai China office and Baidu to design the process to accommodate Chinese interests and behavior and create a whole new interactive dining experience in the restaurant. From ordering, waiting to dining called "Dumi" a Voice-Controlled Robot and self-help ordering kiosk.
Mediaworks 2017, mentoring the next generation of advertising leaders
Mediaworks now in it's 12th year is designed to test the newest batch of rising stars in the media and communications industry. The bootcamp-style workshop is an intense and uniquely rewarding learning experience featuring a 4-day course designed to challenge young talent to think quickly and creatively execute their ideas as a team.
SXSW 2017 – Diversity combined with passion are delivering the shiniest stars to follow
Applying Digital Makeup with Shiseido 'Telebeauty' Augmented Reality App
Canon Photo Face Off – Dentsu Branded Content
Dentsu Aegis South East Asia Campaign Creative & Media Agency of the Year 2016
December 2016
Dentsu Brand Agencies new brand proposition of delivering Innovative Business Solutions created in 2016 certainly produced the goods at the Campaign Agency of the Year Awards. Agency brands in Southeast Asia did fabulously with Dentsu media Thailand scoring two Golds for both Creative and Media Agency of the Year and Dentsu Jayme Syfu winning a Gold for Philippines Creative Agency of the Year.
Find out more
___________________________________________________
Dentsu Woman in Asia Mean Business
Dentsu Aegis Network and DentsuVentures is launching an initiative to mentor, develop and help fund female entrepreneurs in South and Southeast Asia.
Find out more
___________________________________________________
Dentsu continues Uniqlo's customer experience focus by launching a digital travel planner
In planning and designing all aspects related Uniqlo in-store experiences, the company adopts the Japanese concept of kaizen, which translates to mean a continuous search for perfection and is now beefing up e-commerce operations with the help of Dentsu's new Travel Planner app.
Find out more
___________________________________________________
Flipkart India's Leading Digital Economy Business launches 360 Video Treasure Hunt program with Dentsu Webchutney
Since Big Billion Day shoppers longingly wait for the offers to be unveiled every year in India, Flipkart and Dentsu Webchutney decided to gamify this reveal. The 360 video shot within the Flipkart head-office, gives users a tour of the many conference and meeting rooms, the movie and music themed floors, the lobby arena and more.
Find out more
___________________________________________________
Citroen Fami-Navi Guides Drivers To Traffic Safety In China
The Fami-Navi "Baby Navigation" APP came into being, which offers safe travel guidance. Through the built-in recording script, parents and children can learn traffic etiquette together, record the voice of driver's child or spouse, and then automatically import it to replace the existing navigation voice. Then, the driver can enjoy a ride navigated by his or her most important person's voice.
Find out more
___________________________________________________
Augmented Reality and the Meaning of Play
The promise of augmented reality has always been enormous. This posts takes a look the evolution of the AR from the Dentsu app iButterfly to the more recent Pokemon Go.
Find out more
___________________________________________________
Cannes 2016 – Festival of Advertising and Now Technology
It's been ten years since I have attended the International Festival of Creativity, the Cannes Lions Festival. Somethings are the same but much is different.
Find out more
___________________________________________________
Joining Dentsu Aegis Network as Chief Digital Officer, Dentsu Brand Agency Asia Pacific
May 2016
I have joined the Dentsu Aegis Network in the role of Chief Digital Officer (CDO), Dentsu Brand agencies Asia Pacific. I couldn't be happier with the opportunity and challenge ahead. I will be based in Singapore from today May 16th 2016.
Find out more
___________________________________________________
What does a Chief Digital Officer do?
April 2016
Everyone has an opinion on what the CDO role is and what functions and reports it operates in. This is my opinion on the subject and how it stands with me today.
Find out more
___________________________________________________
The Jarryd Hayne Branded Content Story
March 2016
Can a man who has never played a snap of American football at the age of 27 make it in the NFL?
Jarryd Hayne bets it all to prove that he can in a new documentary produced by Telstra. As one of Australia's most recognised rugby league players, he had it all. But NRL star Jarryd Hayne gave up fame and fortune to chase what seemed like an impossible dream.
Find out more
___________________________________________________
Netflix partners with the Manly Sea Eagles for Australia's first branded content sponsorship.
February 2016
The Manly Sea Eagles are proud to be the first Australian sporting club to develop a branded content sponsorship with Netflix. The story unfolds over two parts running from Friday 25th Feb up until the team announcement on Tuesday 1st of March.
Find out more
___________________________________________________
A Year for Marketing as a Service (MaaS) in the cloud.
January 2016
The entire Marketing and CMO group will be Digital Transformed in 2016 . Learn how to transfer to the cloud, to plan and manage marketing-intensive activities to create amazing customer experiences and new internal and outsourced cloud capabilities for your entire company and organisation. Find out more
___________________________________________________
Australian online advertising has surged again to deliver $1.565m for the quarter which is a 33 percent year on year growth.
December 2015
Mobile advertising expenditure increased to $418.9 million in the September quarter 2015, with 55 percent mobile advertising expenditure attributed to mobile display and 45 percent to mobile search.  Smartphones now hold 67 percent of the device category share and tablets at 33 percent.
Find out more
___________________________________________________
Goodbye Telstra Media, it's been a brilliant connected experience.

November 2015
As reported in the press I will be leaving Telstra at the end of the year. It has been a true privilege to establish the Digital Content Services portfolio within Telstra Media.  A big thank you to my colleagues at Telstra, my immediate Media team and all our partners and supplies for supporting me over the last four years. I will be taking a break for a few months before exploring options for my next digital transformation and innovation role. Find out more 
___________________________________________________
National Basketball League announces Telstra as Technology and Data Partner

October 2015

The National Basketball League is pleased to announce that Telstra will be the Official Technology and Data Partner of the league.
NBL will work with a number of Telstra digital media enablement services including Telstra Media's Digital Content Services, Ooyala and Chief Entertainment to bring the Official NBL mobile app to market.
Find out more
___________________________________________________
Launch of Telstra Broadcast Services
September 2015

Launched today is Telstra Broadcast Services, a global media delivery provider with direct to home satellite transmission and IPTV managed services; IP streaming and encoding; satellite monitoring and disaster recovery.
Find out more
___________________________________________________
Telstra exclusive partnership with Apple Music

August 2015


Telstra is partnering with Apple to give Australian music fans the best music streaming experience in the country, offering eligible post paid mobile customers a 12 month Apple Music membership.
Find out more
___________________________________________________
Telstra TV, the simple way to stream to the big screen.

July 2015

Telstra today announced it is partnering with the market leader in entertainment streaming devices, Roku to develop the new device, called Telstra TV, specifically for Australian consumers.
Telstra TV Powered by Roku will be available for purchase in October 2015 with plans to offer customers the three leading subscription video on demand services in Australia, Presto, Stan and Netflix.
___________________________________________________
Foxtel IQ3 a true hybrid box

June 2015


With the Foxtel iQ3, there's always something brilliant for you to watch. Connect this little beauty to the internet and you'll find it easy to enjoy more of what you love.
iQ3's amazing features take your Foxtel experience to a whole new level. It is a true hybrid box. It combines broadcast and IP and it also combines live TV and video-on-demand.  The intent has been to bring all of it together in one overall experience so that customers just find the content they want to watch and then watch it. Find out more
___________________________________________________
Chief Entertainment new facility and upgrade

May 2015


This month Telstra Media boosted its media production capability with the opening of its Chief Entertainment branded studio complex on the old ABC campus at Gore Hill, on Sydney's lower north shore.
The state of the art creative services facility incorporates broadcast TV and digital media production, and high definition fibre connectivity and distribution to the world. Find out more
___________________________________________________
NRL Apple Watch App

April 2015

Only Telstra gives NRL fans access to exclusive premium content on multiple devices and from this month they will be able to follow live scores, kick offs, live stats and scoring timelines using the new Apple watch.
We are very passionate about our footy at Telstra and we want to make sure fans don't miss out on the action. The best way to keep across all the action on the field and beyond is definitely through the fantastic Official NRL App and Digital Pass on your compatible smartphone or tablet. Find out more.

___________________________________________________
SXSW 2015 Insights

March 2015

SXSW is the premier destination for media discovery and this will be my fourth year attending what is my favourite industry event. Austin serves as the perfect backdrop for SXSW, where career development flourishes amid the relaxed atmosphere.
Intellectual and creative intermingling among industry leaders continues to spark new ideas and carve the path for the future of each ever-evolving media field.
Here are my insights from the week.
___________________________________________________

Launch of the Telstra Customer Insights Centre

February 2015

Telstra has opened a Customer Insights Centre (CIC) in Sydney tonight. Spanning 3600 square metres over the second level of Telstra's 400 George Street office in Sydney's CBD, the CIC houses a 300-person auditorium with 78 LED displays, 4K-ready broadcast studio, workshop and collaboration spaces, partner pop-up installations, a restaurant, and hands-on technology demonstration areas featuring business solutions all ready for clients and partners to use and collaborate with Telstra staff and our technology services.
Find out more
___________________________________________________
Sydney New Year Eve

Telstra welcomed in 2015 as the streaming sponsor of last night's spectacular 2014 Sydney fireworks show in partnership with the City of Sydney. The 360 degree footage of the pyrotechnics were captured using two purpose-built drones equipped with HD cameras which created its own custom UAVs and controlled via mobile app.
Find out more.